Biography of Upasika Kee Nanayon  1901 – 1978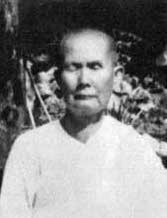 Upasika Kee Nanayon, also known by her penname, K. Khao-suan-luang, was arguably the foremost woman Dhamma teacher in twentieth-century Thailand.
Born in 1901 to a Chinese merchant family in Rajburi, a town to the west of Bangkok, she was the eldest of five children — or, counting her father's children by a second wife, the eldest of eight. Her mother was a very religious woman and taught her the rudiments of Buddhist practice, such as nightly chants and the observance of the precepts, from an early age.
In later life she described how, at the age of six, she became so filled with fear and loathing at the miseries her mother went through in being pregnant and giving birth to a younger sibling that, on seeing the newborn child for the first time — "sleeping quietly, a little red thing with black, black hair" — she ran away from home for three days. This experience, plus the anguish she must have felt when her parents separated, probably lay behind her decision, made when she was still quite young, never to submit to what she saw as the slavery of marriage.
During her teens she devoted her spare time to Dhamma books and to meditation, and her working hours to a small business to support her father in his old age. Her meditation progressed well enough that she was able to teach him meditation, with fairly good results, in the last year of his life.
After his death she continued her business with the thought of saving up enough money to enable herself to live the remainder of her life in a secluded place and give herself fully to the practice. Her aunt and uncle, who were also interested in Dhamma practice, had a small home near a forested hill, Khao Suan Luang (RoyalPark Mountain), outside of Rajburi, where she often went to practice.
In 1945, as life disrupted by World War II had begun to return to normal, she gave up her business, joined her aunt and uncle in moving to the hill, and there the three of them began a life devoted entirely to meditation. The small retreat they made for themselves in an abandoned monastic dwelling eventually grew to become the nucleus of a women's practice center that has flourished to this day.
In the center's early years, small groups of friends and relatives would visit on occasion to give support and to listen to Upasika Kee's Dhamma talks. As word spread of the high standard of her teachings and practice, larger and larger groups came to visit, and more women began to join the community.
When tape recording was introduced to Thailand in the mid-1950's, friends began recording her talks and, in 1956, a group of them printed a small volume of her transcribed talks for free distribution. By the mid-1960's, the stream of free Dhamma literature from Khao Suan Luang — Upasika Kee's poetry as well as her talks — had grown to a flood. This attracted even more people to her center and established her as one of the best-known Dhamma teachers, male or female, in Thailand.
Upasika Kee was something of an autodidact. Although she picked up the rudiments of meditation during her frequent visits to monasteries in her youth, she practiced mostly on her own without any formal study under a meditation teacher. Most of her instruction came from books — the Pali canon and the works of contemporary teachers — and was tested in the crucible of her own relentless honesty.
In the later years of her life she developed cataracts that eventually left her blind, but she still continued a rigorous schedule of meditating and receiving visitors interested in the Dhamma. She passed away quietly in 1978 after entrusting the center to a committee she appointed from among its members.