Biography of Ramana Maharshi 1879 – 1950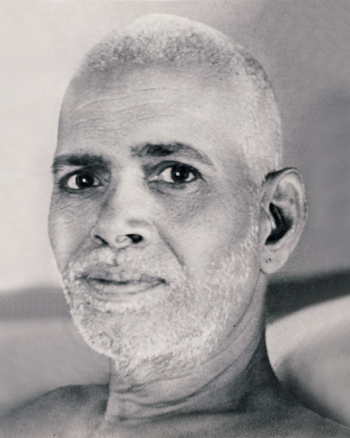 Sri Ramana was born in a village in Tamil Nadu, South India on Arudra Darshanam day, into an orthodox Hindu family, the second of four children. Venkataraman seemed a normal child with no apparent signs of future greatness. He was popular, good at sports, very intelligent but lazy at school,  and showed little religious interest. He did have a few unusual traits. When he slept, he went into such a deep state of unconsciousness that his friends could physically assault his body without waking him up.
In 1892, Venkataraman's father Sundaram Iyer suddenly fell seriously ill and unexpectedly died several days later at the age of 42. For some hours after his father's death, Venkataraman contemplated the matter of death, and how his father's body was still there, but the 'I' was gone from it.
Venkataraman went to the American Mission High School. One November morning in 1895, he was on his way to school when he saw an elderly relative and enquired where the relative had come from. The answer was "From Arunachala."
A month later he came across a copy of Sekkizhar's Periyapuranam, a book that describes the lives of 63 Saivite saints, and was deeply moved and inspired by it. Filled with awe, and a desire for emulation, he began devotional visits to the nearby Meenakshi Temple in Madurai. Soon after, on July 17, 1896, at age 16, Venkataraman had a life-changing experience. He spontaneously initiated a process of self-enquiry that culminated, within a few minutes, in his own awakening.
After this event, he lost interest in school-studies, friends, and relations. On the morning of September 1, 1896, Venkataraman boarded the train and traveled the remaining distance. In Tiruvannamalai he went straight to the temple of Arunachaleswara. From there, he was invited to stay in a mango orchard next to Gurumurtam, a temple about a mile out of Tiruvannamalai, and shortly after his arrival a sadhu named Palaniswami went to see him, joining him as his permanent attendant. Besides physical protection, Palaniswami would also beg for alms, cook and prepare meals for himself and Sri Ramana, and care for him as needed.
In February 1899, Sri Ramana moved further up Arunachala, taking up residence at Virupaksha Cave for the next 17 years, using Mango Tree cave during the summers.
In 1902, a government official named Sivaprakasam Pillai, with writing slate in hand, visited the young Swami in the hope of obtaining answers to questions about "How to know one's true identity". The fourteen questions put to the young Swami and his answers were Sri Ramana's first teachings on Self-enquiry, the method for which he became widely known, and were eventually published as 'Nan Yar?', or in English, 'Who am I?'. (see Teachings)
Sri Ramana became relatively well known in and out of India after 1934 when Paul Brunton, having first visited Sri Ramana in January 1931, published the book A Search in Secret India, which became very popular.
Sri Ramana was noted for his belief in the power of silence and relatively sparse use of speech. He led a modest and renunciate life, and depended on visitors and devotees for the barest necessities.
On the evening of 14 April 1950, he left his body. A vividly-luminous shooting star with a luminous tail came out from the ashram, moving slowly across the sky and, reaching the top of Arunachala, disappeared behind it. The phenomena was seen by numerous people.